A Car Buying Story, Part Three: Models and Makes
Published on: Sat, 17 Nov 2007
"


Generally, I wasn't too happy with the variety of models in Canada. When it comes to family cars, the choices are quite simple - you go for a mini van or, as of lately, for an SUV. No big deal. But I thought that mini van is a waste of money if you have only two kids and don't run a repair business. SUV has a fun, all-terrain drift to it, but it too is a waste if you don't use it. What I was looking for is a smaller multi-purpose, single-volume vehicle, and there aren't many of them here. Domestic makes are better in that respect than imports. I almost got to think that the selection is such that it forces you to either buy a big car or two cars.

I'm mostly saying this because I've seen plenty of such versatile models in Europe. For example, you can find a new Civic in 5 door trim -- diesel!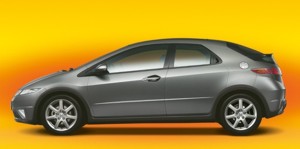 Honda Civic 5 door Diesel
(Yeah, it looks like 3 door, but it's actually 5)
Or a highly unusual, but apparently very versatile and practical Fiat Doblo (a wide spacious crossover) that looks somewhat like Honda Element, only it's a bit smaller and proportionally wider.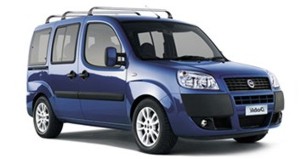 Fiat Doblo Crossover
Wagons and generally single volume vehicles are very popular in Europe. Half of Fiat's fleet are such cars. And of course, the diesel option -- everybody has it. I was really sorry I did not find a suitable one here.
Anyhow, that is what it is. This is my overview of different models I've looked at:
Honda Accord
I drove Accord '89 for years, and I can testify to its quality. The engine was just great, even with 230,000 km on it. Every year when I need to perform Air-Care, all I'm thinking is: "Is it going to be slightly better or slightly worse than last year?" In the first couple of years I used to drive a bit before the air-care to warm up the engine, but later abandoned that practice -- it was simply unnecessary. Anyhow, Accord was my first thought, and always a backup plan: "if I don't find anything I like, I'll just buy Accord".

And the latest Accord (model 2003) was in all aspects a very good choice. Good space, good quality, safety, fuel economy, pretty much everything. It wasn't that sleek and pretty as I would hope, but that's really not big a deal. Also, it did not have the perfect safety scores (in couple of tests it had 4 out of 5) -- and I was kind of expecting perfection from my favourite make. In the end, the current model was just about to be replaced, the 2008 is completely redesigned, and I was expecting major improvements with the new model. So the current model seemed somewhat an outdated choice.

Honda Accord
Honda Civic
Haven't really thought of Civic before -- to me it was a city car for singles or a first family car that you replace quickly. However, the new Civic (model from 2006) made a strong impression on me.

Pros: A lot of new features, some quite advanced. Top safety: impact-absorbing body, all 6 airbags, ABS, sensors, and all of that in the base version. Excellent fuel economy -- just slightly worse than Corolla (which is top in that respect). Although a smaller car, it grew over time. The passenger space is very good even for a taller person. I even tried moving the driver seat all the way back and then sitting behind it, and it was ok. It's quite wide inside -- it's no minivan, so don't expect wonders, but perfectly acceptable.

Also, the options are created reasonably, so all I had to add was AC -- it had everything else. The design is sleek, the interior very pleasant, and very enjoyable for a driver. Driving a Civic (manual transmission) is just a beautiful experience.

Cons: The only flaw I found was small trunk space. Trunk is smaller than most of the cars I've looked at. Corolla has 40L bigger trunk which is not negligible especially in smaller cars. The shape of the trunk is good which means you can put in different robust pieces, but the total volume is simply small.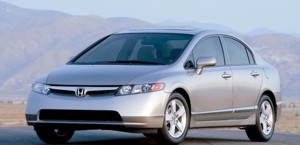 Honda Civic
Honda CR-V
A completely new model (2007), bigger than before, and very nicely designed. I generally did not shoot for SUVs, but if I decided to get one, CRV would have been a serious candidate. The only flaw for me was that it doesn't come with manual transmission.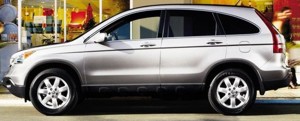 Honda CR-V
Honda Hybrid
I have also considered hybrid cars, but gave up generally for one reason: the batteries occupy a good part of the trunk space, and that was already an issue with non-hybrid models. And with the price, I decided to pass on those nice modern things this time.
Toyota Corolla
Towards Corolla, I had similar feeling as to the pre-2006 Civic -- seems as a city young/small family car, only even more than Civic. For my current situation, I was seriously considering it. What I didn't like was the way it was sold: the base model did not have ABS, only front airbags, and generally some other nice safety features were missing. Now the options are managed in such a way that if you add those things, you also get plenty of those that you don't need (e.g. sunroof), and it's not that affordable anymore.

On the other hand it had a lot to offer: good space for a smaller car, the best fuel economy, proven quality.

But I gave up on it mainly because of the lack of safety features.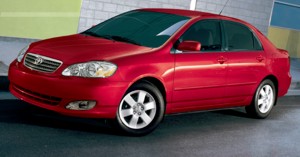 Toyota Corolla
Toyota Matrix
Similar to Corolla, with very similar and annoying option structure. I mean, it goes up to $28,000 if I add features I want (ABS, Airbags, AC, ...) That is because you also get leather seats, sunroof, and some other options.Now Matrix was conceptually exactly what I wanted -- a single-volume, not too big, but practical, multipurpose car. But it has been built on Corolla chassis, and to me it had a certain "incomplete" feeling to it. And almost some cheapness as well.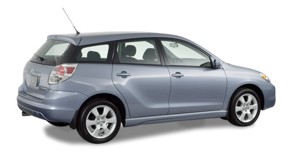 Toyota Matrix
Toyota Camry
I did not like it very much. I mean, it seems to be a great car -- it's big, spacious, amazingly soft and comfortable. It's a bit heavy which you can feel on acceleration, but again, it's a bigger car, so it's no surprise. Generally, Camry is starting to look and feel as a regular 6 cylinder large American car, which is perhaps exactly what they are trying to do. I did not like that much -- I like cars such as Accord better; it's sleeker, more dynamic, a bit harder on the road, more sporty.

Anyhow, except for the fact that I did not need a big limousine-like car, I have nothing really against it.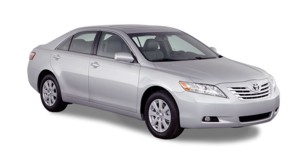 Toyota Camry
Nissan
Nissan is an excellent car that simply did not flare any particular interest with me. This is of course just a personal taste. Altima is in particular very nice, well made and affordable car. Sentra is less so -- I found it below similar sized cars. Maxima is a great full sized car -- but similar to Toyota Camry it was a bit larger sedan that I'd go for.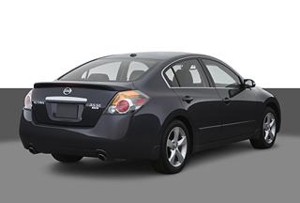 Nissan Altima
Hyundai
Now this is a puzzle. Sonata has a beautiful and very elegant style. It looks fairly high-end by appearance. And it has excellent features and plenty of them. For example, a latest trend -- Shiftronic transmission or CVT (Continuous Variable Transmission) that pairs the best attributes of manual and automatic mechanisms. I've heard that the fuel economy with CVT is almost as good as in the manual one; actually Volvo claims that in one of their models, on a highway, CVT performs even better than manual. But to me, driving a car with CVT was not that impressive experience.

Hyundai obviously has a lot of latest features for a highly affordable price. And although it does look good, you can still tell that it's an affordable car. When Hyundai entered the American market it was known as the worst car -- people say it would last you for about a year. But in the past 5 years they have made such a good progress, that in some independent ratings (Such as Consumer Report's) they rate better in some aspects than Honda or Toyota.

All in all, I did not spend much time on it, although I've considered both Sonata and their SUV Tucson as an option.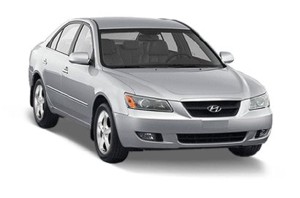 Hyundai Sonata
Mazda
I was looking mainly at Mazda 3 Sport. By the way, the name is completelly misleading -- for a long time I did not even consider it because I simply thought it's a sport edition not suitable for a family. But when I did looked at it, I was surprised to learn that it actually isn't -- the term "sport" apparently came up only because "hatchback" was too "boring". Silly -- I don't think they really thought this one through well.

Anyhow, I learned it has almost all I needed, and on test drive it felt really good. The dealer told me they sell mostly manual versions because it's a performance car. I doubt this is really true, but it is true that the car is pretty sporty -- very responsive, fairly strong, and in general a pleasure to drive. Nevertheless, it has good space inside, and generally is suitable for a family.

But the trunk was small, i.e. narrow. The width of the trunk is virtually the same as the width of the trunk door. This I simply don't understand -- seems as if they purposely did not use all the available space.

In addition, its crash ratings (from the tests) were not the best. And as a smaller flaw the seat covers felt a bit unpleasant.

But it is generally a very good car and I was considering it very seriously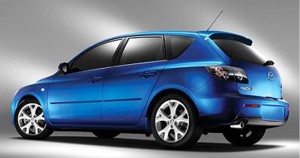 Mazda 3 Sport
Mazda 5 also caught my attention because it was a bigger family car, yet not a mini van. I was comparing it to Matrix. However, it looked to me that the goal with an unusual "crossover" design was not really achieved (or completed), at least to my personal taste. The third row is too small for anyone except kids to use for any longer drive. With the third row up, the trunk is too small. Although not a mini van it is still fairly heavy and "lazy" on the road.
It's generally a very interesting vehicle, worth looking at.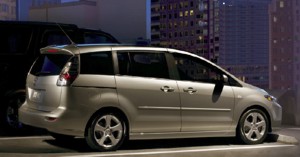 Mazda 5
Subaru
Ah, Subaru...

Subaru was the most pleasant discovery for me. I didn't know much at all about this make, only a few vague facts. But after I learned a bit about it I figured that this make is simply excellent. And they have recently been gaining more and more popularity. Then I went to US for a weekend and saw that there are as many Subarus (mostly Outbacks) on the road there as there are Honda Civics in Canada. Every other person owns it!

So I explored the models a bit and figured that Forester and Outback are most appealing. Forester as a smaller and cheaper option and Outback as a bigger and more expensive. Impreza was too small and a bit too much sporty -- it's a performance car used for racing. Legacy, built on the same chassis as Outback and very similar as well was ok, but Outback simply looks better.

I took Forester on a test drive -- although it has older look, and is boxier, jeep-like, I liked it somewhat better than Outback. Actually this comparison is a bit like comparing apples and oranges -- both look very nice and are conceptually different in exterior design. Perhaps I liked Forester a bit better exactly because it looks like a small SUV. It drives just beautifully. It's not really an SUV, because it's smaller and lower than, say CR-V, but it does feel like one because you sit higher above the road than, say, in a sedan. This gives you an excellent visibility of the road in front of you. The space was good, but not too good -- in particular the shoulder and hip room is comparable to even Corolla and Civic. So two car seats and an adult can fit in the back, but it wouldn't be too comfortable on a longer, hours long trip. Other dimensions including the trunk size are just fine.

An interesting little side feature of the Boxer engine (horizontally opposed pistons): When you turn the ignition on, Forester "shakes" just a wee bit, just as if you were sitting in a truck. This is not too noticeable, but it gives you a bit of a nice feeling of strength.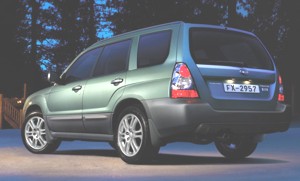 Subaru Forester
Security with Subaru vehicles is the one of the strongest points. Their cars have straight 5 on all tests (front impact, side impact and rear impact). This is not accidental -- they have systematically developed this quality. They've been known in the past to put a lot of effort in security, so much that even they admitted they did it on account of the style. So even the Forester that does not have the curtain airbags at all, protects rear passenger better than some vehicles that have the curtain airbags. However, I found that lack of those airbags was too serious flaw for me -- as I mentioned, my first priority was safety and I did not want to compromise in that respect even a bit. Outback on the other hand has all 6 airbags, but it's also considerably more expensive.
Another security feature resulting from the engine design, i.e. the Boxer style, is that it has very low center of gravity, lower than ordinary engines. For this reason, the risk of rollover with Forester is comparable to a sedan, rather than any SUV.
Subaru vehicles are not true gas-savers. Specifications claim they spend 10.7L/100km. I drove Outback for 24 hours, and it spent 12L/100km. This is understandable; you'll never get the fuel economy from the spec, especially with brand new car. However, compared to Corolla's 7.1 or Civic 7.8, it is almost 50% more.
I didn't choose Subaru for a couple of reasons, although I was so close to buying one. Forester does not have curtain airbags, and new Forester model is planned for 2009. Outback is not cheap -- with taxes and PDI and the rest of the fees it comes up to $38,000. Buying Outback in US would cost me somewhat above $30,000. Forester would be somewhat below $30,000. So, I'd have to pay good money, and wouldn't be happy with either lack of airbags or not the best fuel economy. But I think my next car might easily be a Subaru.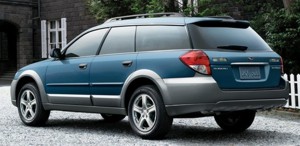 Subaru Outback
Volvo
No need to say it's a great make, and one of my personal favourites. However, affordable or close to affordable Volvo's (such as S40, V50) are small, and larger ones (S70, XC70) are expensive. If it wasn't for the price I think I wouldn't even analyze it -- I'd just go and buy it.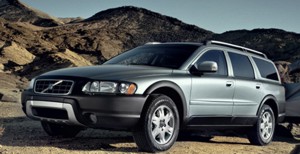 Volvo XC70
Volkswagen
I know VW was always a good car -- when I was a kid half of my hometown was driving VW. I know features of Golf models from Golf I to Golf IV. And I drove it a bit too. But my main interest in VW was that I was looking for a diesel car. I was disappointed to find that VW dealers in Canada do not sell plenty of diesel models. There is TDI (here and now it means Jetta TDI) -- that's it.

Then I also discovered that City Golf and City Jetta are amazingly affordable -- they are cheaper than Civic and Corolla. And they are good cars! I almost decided to go for one of them!!

But Golf is small for a Canadian family, in particular, the trunk is too narrow -- I can't even put the kid's stroller in straight, but have to incline it a bit. I started wondering how did the half of my hometown raise kids with a Golf? (And the other half of the town drove smaller cars.) But those were different times...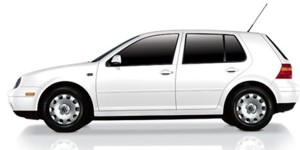 VW City Golf
City Jetta is better in that respect, but not too much. It is an old Jetta model, first designed several years ago. It's still the same with all the small improvements made over the years, but nothing major.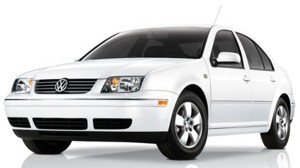 VW City Jetta
Major redesign of Jetta went into the Jetta model (without "City") that is some 8K more expensive and looks more like a Passat (actually so much so that on the road I have trouble telling Jetta from Passat). Jetta is an excellent car, has excellent security features, lots of space (very, very comfortable inside). And there is diesel (TDI) option.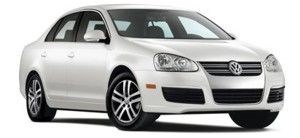 VW Jetta
Generally, an excellent option -- only a summary of all features and price decided against it, and not by far at all.
Read the rest on following pages:
A typical car buyer that has recently spent some substantial time and effort researching the auto market.

Share This Page

Email
Social Web Bookmarks (Opens a new window / tab)

Comments
Wish to comment?
Type in and press Send button or Ctrl+Enter
(All comments are reviewed to eliminate spam and grossly inappropriate postings)
Name:
Comment: